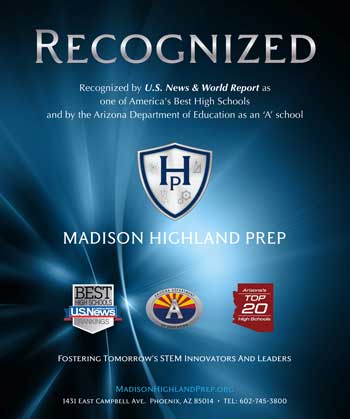 2020 Rankings are in! #19 High Schools (click here), ranking is based on their performance on state-required tests, graduation and how well they prepare students for college.
How Different Are the Revamped 2019 Best High Schools Methodology and Rankings?
Very different. In the previous methodology, rank order was determined solely using the College Readiness Index, based on performance on and participation in Advanced Placement and International Baccalaureate exams. In the revised methodology, six ranking factors are used, each of which are weighted to produce an overall score on which the ranking is based.
These six factors incorporate state assessments and graduation rates, in addition to AP and IB data, that count toward each school's overall score. Each ranking indicator measures academic excellence differently.
Schools perform better on some indicators than others based on their characteristics and idiosyncrasies with their data. By including multiple quality indicators, schools are rated with an approach that is more diverse and collectively meaningful than if the ranking is based on any single factor. The top-rated schools demonstrate success across multiple areas.
Secondly, the new methodology produces more historically comparable results. Specifically, changes in schools' ranks in future years should correspond directly with the up or down movements in their data since all eligible schools will continue to be ranked each year. Under the old methodology, highly ranked schools one year sometimes became unranked the next year due to marginal changes in their data that could place them on the unranked side of the ranked or unranked threshold.
Additionally, with the new methodology, all schools that qualify are represented in the rankings. This means that in addition to expanding the main national rankings, U.S. News released new and expanded numerical rankings for all the high schools in each state. This is far more than in the old methodology, in which only slightly more than 14% of each state's schools were ranked.
For the first time, 1,760 charter and 857 magnet schools are ranked in the Best Charter Schools and Best Magnet Schools national rankings, four times more than were ranked last year.Lastly, as part of the new methodology, schools are no longer categorized with gold, silver or bronze designations. Instead of medals, U.S. News has numerically ranked the top 75% of the schools nationally and listed the schools in the bottom 25% of the national rankings alphabetically along with the ranking range.